I started writing this song for The Marshall Pass after our dog Magritte "Maggie" died. She was a special girl and a beloved member of our family. I bought this Gretsch guitar the day after she passed and wanted the first song I wrote on it to be for her. I stuck a photo of her on it and began playing.  When I played the demo for Craig I didn't ask him to write a song about a dog. He wrote this beautiful lyric and melody and it just fit perfectly. His lyrics and performance are brilliant as always, thank you Craig.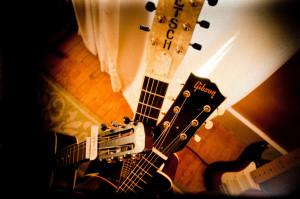 I started to produce the track and wanted to capture the bittersweet feeling of losing something that brought you joy. It's neither a sad song or a happy song. I asked my dear friends Jeremy and Brooks from our group The Curtis Mayflower to add upright bass, piano and strings and they recorded their wonderful parts. My lovely and talented wife Annie sang beautifully on the song as well. The finishing touch was the electric guitar that my friend and bandmate, Roger Lavallee from The Curtain Society played on my fathers old Fender guitar.
This song is filled with family and friends who I am fortunate to have in my life. I hope you enjoy it.
Thank you so much for listening,
Duncan