I am thrilled to be part of the team organizing the 4th annual Tweed River Music Festival. Graphically many things get produced for these show, t-shirts, stickers, advertisements and websites. Here's the poster which has become the design theme for everything else. I'll be playing at the festival with Big Eyed Rabbit on Saturday afternoon. I hope you can make it to the fest! www.tweedrivermusicfestival.com is the site.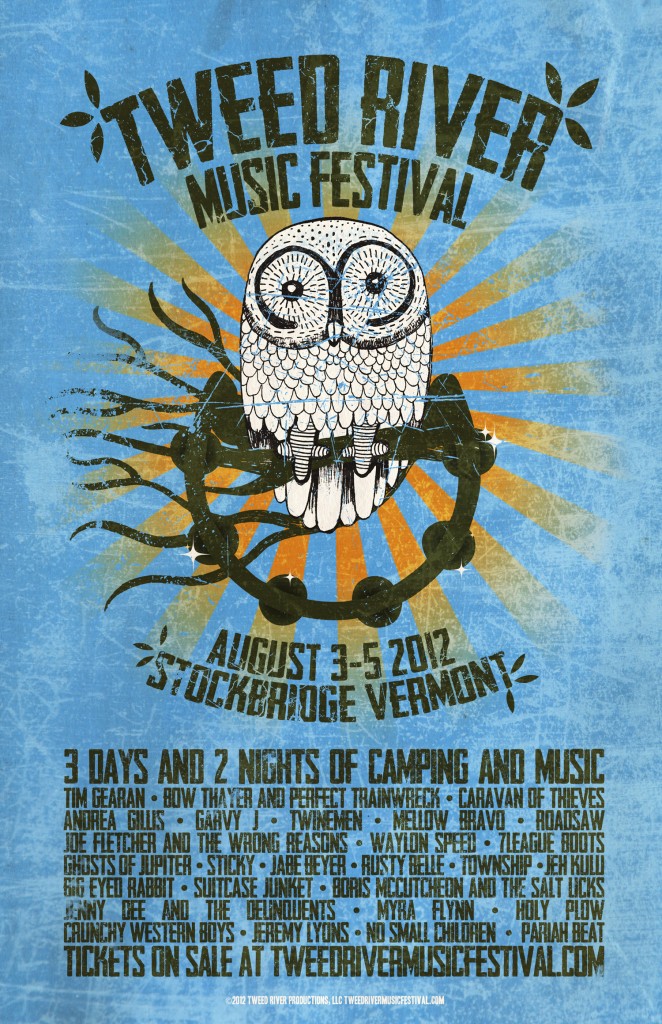 Tweed River Productions LLC is proud to present the 4th annual Tweed River Music Festival taking place August 3,4 and 5 at the junction of routes 100 and 107 in Stockbridge, VT. Hosted by Vermont's own Bow Thayer and Perfect Trainwreck, the festival takes pride in presenting the New England region's finest blend of original music. Weekend passes including camping are available as well as single day admission tickets. Kids 6 and under are free. For the true music lover, a mix of Roots Rock, Bluegrass, Blues, Soul and Dance music will be on display in a setting that not only encapsulates the beauty that is Vermont in the summer but that recharges the soul with its humbling amenities. This year the festival is happy to welcome back some performers from previous Tweeds. Artists like Tim Gearan, Mellow Bravo, Waylon Speed and Andrea Gillis will be joined by Garvy J, Boris McCutcheon and The Salt Licks, Twinemen, a reunion of the legendary 7 League Boots and special guests Caravan Of Thieves along with many others. For ticket prices and general information please visit www.tweedrivermusicfestival.com.
Thank You and we look forward to seeing you there!
FRIDAY AUGUST 3RD:
Tim Gearan
Andrea Gillis
Mellow Bravo
Waylon Speed
Sticky
No Small Children
Pariah Beat
SATURDAY AUGUST 4TH:
Bow Thayer and Perfect Trainwreck
Garvy J
Roadsaw
7 League Boots
Jabe Beyer
Boris and The Salt Licks
Jeh Kulu (In front of stage)
Township
Jenny Dee and The Delinquents
Myra Flynn
Big Eyed Rabbit
Suitcase Junket
SUNDAY AUGUST 5TH:
Caravan Of Thieves
Twinemen
Joe Fletcher and The Wrong Reasons
Ghosts Of Jupiter
Holy Plow
Rusty Belle
Crunchy Western Boys
Jeremy Lyons
go get some tickets www.tweedrivermusicfestival.com